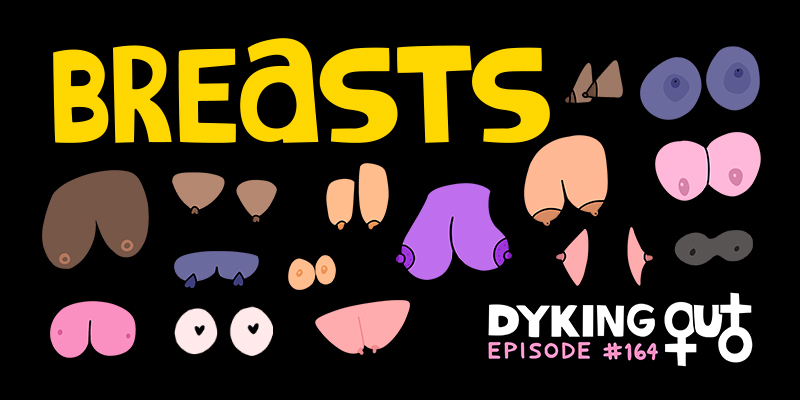 Breasts, boobs, boobies, knockers, tits, titters, titties, honkers, hooters, melons, jugs, tatas – whatever you call them, we're dyking out about them with the crazy talented and boobacious Michelle Badillo (One Day At A Time, Vida, The Bold Type). Michelle and Melody bond over the trauma and triumphs of having large breasts, while Carolyn struggles to relate to their shared nipple experiences. Whether they're big, small, or in between, are we all doomed to feel like we can't win with them? Or even without them? Plus, we geek out over Michelle's amazing career that's just getting started. And, we reflect on this Jenny Schecter of a year. You'll also find out if your hosts survived the holidays, are how much PDA they forced on their family members. Finally, we wrap it up with the perfect chaotic question to end this chaotic year.
-Get extra content, Ad Free episodes, support the pod, and get to know other listeners by joining our Patreon community. We use the money for equipment, studio rentals, editing, mixing, travel for live shows (when those are a thing again), and more!
If you can't support the pod on a monthly basis, please consider tipping us through Paypal or purchasing 1-on-1s and cameos through Jemi. We truly appreciate it!
-We've got HOLIGAY MERCH.
-For related content, follow us on Twitter, Facebook, Instagram
-Help more dykes find us and Leave Us a 5-star Review if you like what you hear!
-Have a question that you need answered ASAP? Check us out on WISIO.
-Like our theme song by There Is No Mountain? Subscribe to our composer/mixer's youtube channel for more beats and mixes.