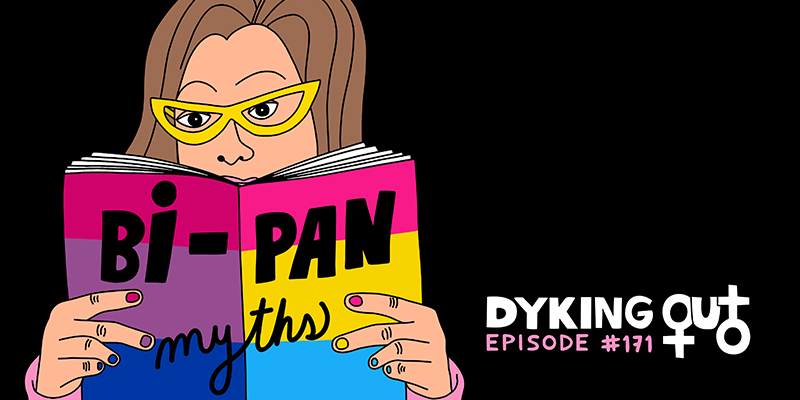 Hello Dykes and Bykes! We have a PANtastic episode with the one and only Natasha Negovanlis (Carmilla, Vanlis Presents) about the myths and misconceptions surrounding Bi and Pan identities. What are they, and why are they still so prevalent? Do Bi and Pan folks feel like they have to adjust their gender and sexuality performance based on who they're with? We ultimately resolve every single issue that Bi/Pan people face and do so in a record amount of time. We also might need to mail Natasha our Gay Champion Of The Week trophy, because her gayest thing takes the crown. But first, the review of The Word To Come you never knew you wanted. Plus, Carolyn accidentally invents a new term for her vag, and Melody rages against robocalls. Finally, we end with a questions from a listener whose roommate is making things weird.
-Get extra content, Ad Free episodes, support the pod, and get to know other listeners by joining our Patreon community. We use the money for equipment, studio rentals, editing, mixing, travel for live shows (when those are a thing again), and more!
-Take the quiz and get a discount on a brand new mattress when you go to helixsleep.com/dykingout
If you can't support the pod on a monthly basis, please consider tipping us through Paypal or purchasing 1-on-1s and cameos through Jemi. We truly appreciate it!
-We've got MERCH.
-For related content, follow us on Twitter, Facebook, Instagram
-Help more dykes find us and Leave Us a 5-star Review if you like what you hear!
-Have a question that you need answered ASAP? Check us out on WISIO.
-Like our theme song by There Is No Mountain? Subscribe to our composer/mixer's youtube channel for more beats and mixes.