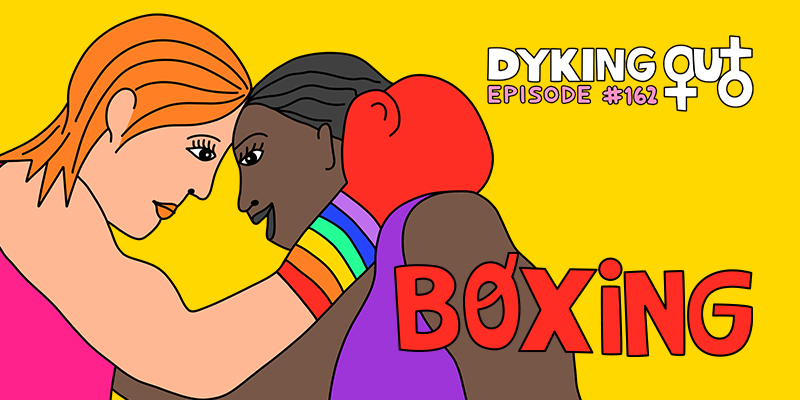 Ding ding ding! We're dyking out with singer and actor Klea Blackhurst about Boxing! Klea performs at the most legendary venues in New York City, but when she's not channeling her inner Ethel Merman, she's shadowboxing as The Belter! But how does one overcome the huge intimidation factor to get into boxing? What's it like to train with the pros? What are some of the big misconceptions about it? We also talk about life in the city with our performance spaces closed for nearly a year, and how we're adjusting. Plus, Carolyn goes against Melody's wishes and talks about The Prom. And, Melody gets called out for being a creep at her local bodega. Finally, we end with a serious listener question that requires expertise that one of our co-hosts happens to have!
-Get extra content (Like our Happiest Season review with Erica Rose and Queer Questions with Mara Wilson), Ad Free episodes, support the pod, and get to know other listeners by joining our Patreon community. We use the money for equipment, studio rentals, editing, mixing, travel for live shows (when those are a thing again), and more!
If you can't support the pod on a monthly basis, please consider tipping us through Paypal or purchasing 1-on-1s and cameos through Jemi. We truly appreciate it!
-We've got HOLIGAY MERCH.
-For related content, follow us on Twitter, Facebook, Instagram
-Help more dykes find us and Leave Us a 5-star Review if you like what you hear!
-Have a question that you need answered ASAP? Check us out on WISIO.
-Like our theme song by There Is No Mountain? Subscribe to our composer/mixer's youtube channel for more beats and mixes.