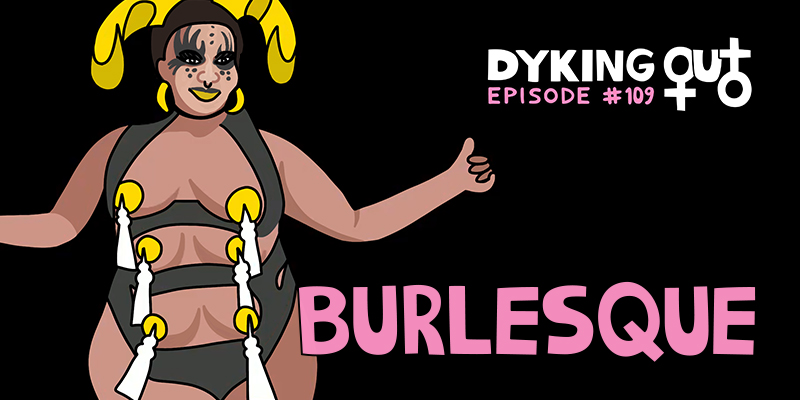 We're sending you off into the Thanksgiving holiday with an extra-long revealing episode about the art of Burlesque with "The Babe That Goes Bump In The Night," AKA Nyx Nocturne! Nyx tells us about their journey of getting into burlesque, how it intersects with their identity, choosing a name and persona, and more! Past guest and current comedian / filmmaker Kendall Payne came on as gust co-host and brings the LOLs. But before we dig into the topic, we dish about the upcoming premier of The L Word: Generation Q. Carolyn pitches an alternate show and questions the choice of characters to bring back. Then we discuss astrology as it relates to The Pattern app, and whether or not we're all living in a complex simulation. There are so many twists and turns in this episode! Lastly, we cap it off with a listener question about popping the question…to their partner's father.
–Get tickets to Dyke The Halls: A Dyking Out Holigay Spectacular at Joe's Pub, December 16!
-Get extra episodes by joining out Patreon community of becoming a member on Himalaya.
-For related content, follow us on Twitter, Facebook, Instagram, and Leave Us a Review if you like what you hear!
-Like our theme song by There Is No Mountain? Subscribe to our composer/mixer's youtube channel for more beats and mixes.