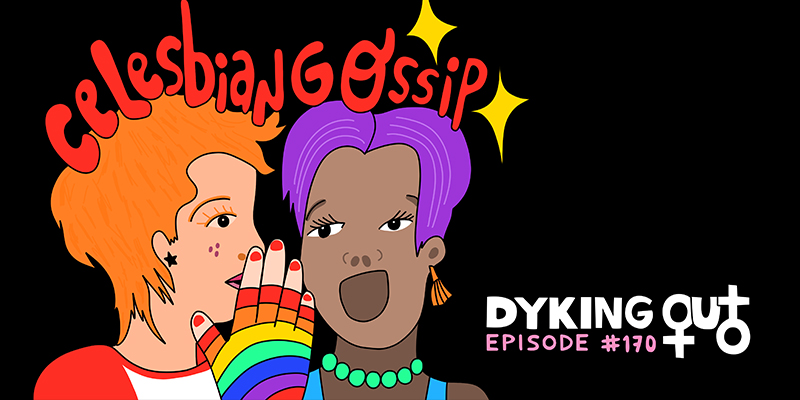 We're serving up sapphic scoops with comedian Liza Dye, all in the name of good, clean, and hopefully not mean, celesbian fun. When she's not writing for TV shows or being asked about her well-known, traumatic NYC experience, Liza runs a popular celesbian gossip insta account. We talk about why we love to know whose vaping courtside together, and how it's different than coverage of straight celebs. From Kenny to Cara to Queen Latifah, we shared our thoughts and theories. By the way, if you hear little whimpers in the background, those are from Liza's dogs and NOT Armie Hammer's next meal. Plus, our resident scam-lover got scammed, and Carolyn advances the gay agenda in corporate America. Finally, we wrap it up with a question from a listener who is having a rough time getting rough in bed.
-Get extra content, Ad Free episodes, support the pod, and get to know other listeners by joining our Patreon community. We use the money for equipment, studio rentals, editing, mixing, travel for live shows (when those are a thing again), and more!
-Take the quiz and get a discount on a brand new mattress when you go to helixsleep.com/dykingout
If you can't support the pod on a monthly basis, please consider tipping us through Paypal or purchasing 1-on-1s and cameos through Jemi. We truly appreciate it!
-We've got MERCH.
-For related content, follow us on Twitter, Facebook, Instagram
-Help more dykes find us and Leave Us a 5-star Review if you like what you hear!
-Have a question that you need answered ASAP? Check us out on WISIO.
-Like our theme song by There Is No Mountain? Subscribe to our composer/mixer's youtube channel for more beats and mixes.