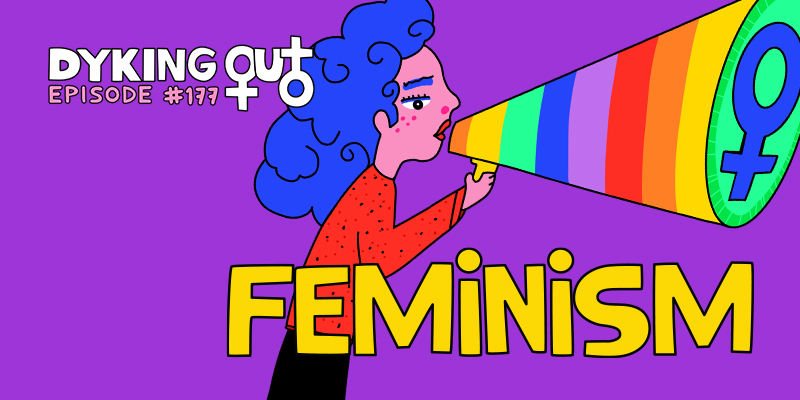 Feminism often feels like a dirty loaded word, but regardless of your gender, it's impossible to ignore. Editor and journalist Gabrielle Korn (NYLON, NETFLIX) joins us to dyke out about her experience confronting feminism head on while working in women's media. We discuss the themes of her new book, Everybody Else Is Perfect, and how feminism will never work if we a) aren't being intersectional and inclusive and b) include everybody but ourselves. Also, how does being queer affect our approach to feminism? And how do we dismantle the patriarchy? Plus, we announce a slight change to the pod and share bad experiences with strangers. Finally, we end on a question from a listener who can't afford to move out of the place they share with their ex.
FOLLOW US ON THE STEREO APP FREE FOR OUR 3X WEEKLY LIVESTREAM SHOW (Sponsor)
-Get extra content, Ad Free episodes, support the pod, and get to know other listeners by joining our Patreon community. We use the money for equipment, studio rentals, editing, mixing, travel for live shows (when those are a thing again), and more!
-Take the quiz and get a discount on a brand new mattress when you go to helixsleep.com/dykingout (sponsor)
If you can't support the pod on a monthly basis, please consider tipping us through Paypal or purchasing 1-on-1s and cameos through Jemi. We truly appreciate it!
-We've got MERCH.
-For related content, follow us on Twitter, Facebook, Instagram
-Help more dykes find us and Leave Us a 5-star Review if you like what you hear!
-Have a question that you need answered ASAP? Check us out on WISIO.
-Like our theme song by There Is No Mountain? Subscribe to our composer/mixer's youtube channel for more beats and mixes.