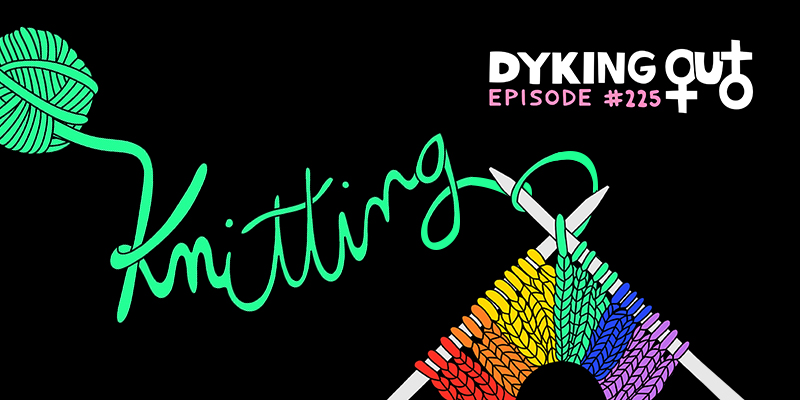 No need to spin a yarn on this episode as we have Tyisha Berger on to enthusiastically share her passion for knitting! Why does knitting feel so queer? What do people think of it in the crafting community? What are the stereotypes and misconceptions about knitters? How do you even get started? What role does technology play in knitting. We explore these questions and also learn why the rainbow scarf that Carolyn gifted a girlfriend years ago may have doomed the relationship. Also, be sure to swing by Good Judy in Brooklyn for Ty's craft night, or any night so you can say hi and tip generously! Plus, Carolyn explains what solidarity tassels are, while Melody makes being attacked by a dog gay. Finally, we end with question from a listener who struggles with her partner being closeted. #knittingissexy
-Get extra content EACH WEEK, Ad Free episodes, support the pod, and get to know other listeners by joining our Patreon community.
If you can't support the pod on a monthly basis, please consider tipping us through Paypal or purchasing 1-on-1s and cameos through Jemi. We truly appreciate it!
-We've got MERCH.
-For related content, follow us on Twitter, Facebook, Instagram
-Help more dykes find us and Leave Us a 5-star Review if you like what you hear!
-Have a question that you need answered ASAP? Check us out on WISIO.
-Theme song by There Is No Mountain
Sponsors:
Helix: Helixsleep.com/dykingout for up to $200 off your purchase
BetterHelp: As a listener, you'll get 10% off your first month by visiting our sponsor at betterhelp.com/do
Best Fiends: Join us and the millions of Americans who are already playing this game. Download Best Fiends for FREE on The Apple APP store or Google Play.