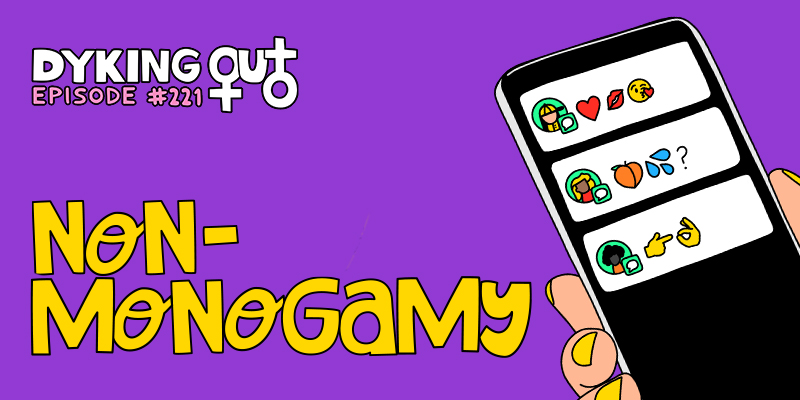 We're opening up about non-monogamy this week with renowned queer sex therapist Casey Tanner! What is non-monogamy and how does it relate to polyamory? Have you ever wondered if non-monogamy is right for you? What steps should couples take before opening up a relationship? Why are there so few accurate representations of it in media? Can monogamous couples learn lessons from non-monogamy? We answer these questions, share personal experiences, and so much more! (But remember if you want even more personal experiences, you have to sign up for our Patreon where you'll get a bonus episode each week!) Plus, Carolyn reveals what may just be her gayest thing yet! And, Melody has a classic "what not to do" interaction with a hetero. Finally, we answer a question from a listener who has to come out to unsupportive parents.
-Get extra content EACH WEEK, Ad Free episodes, support the pod, and get to know other listeners by joining our Patreon community.
If you can't support the pod on a monthly basis, please consider tipping us through Paypal or purchasing 1-on-1s and cameos through Jemi. We truly appreciate it!
-We've got MERCH.
-For related content, follow us on Twitter, Facebook, Instagram
-Help more dykes find us and Leave Us a 5-star Review if you like what you hear!
-Have a question that you need answered ASAP? Check us out on WISIO.
-Theme song by There Is No Mountain
Sponsors:
Helix: Helixsleep.com/dykingout for up to $200 off your purchase
BetterHelp: As a listener, you'll get 10% off your first month by visiting our sponsor at betterhelp.com/do
Best Fiends: Join us and the millions of Americans who are already playing this game. Download Best Fiends for FREE on The Apple APP store or Google Play.