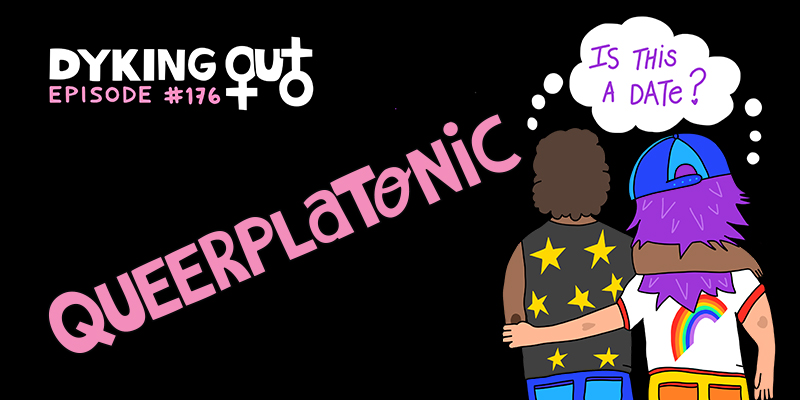 Dyke worlds collide in this episode featuring Rachel Scanlon & McKenzie Goodwin from the Two Dykes and a Mic podcast. And with two sets of platonic co-hosts on hand, what better topic than exploring the world of queerplatonic relationships! How are queer friendships different? Is it possible to just be close friends with another queer person if you're attracted to their gender? Does having an abundance of queer friends make a difference? How do you maintain a close relationship and not catch feelings? Also, why won't Carolyn cuddle with Melody? Is it strange that Rachel and McKenzie are blocking sexual acts, or is it just another Tuesday? Plus, Carolyn indulges Melody's Huskies talk, but gets her back with TMI about hamster urine. Finally, we hear from a listener who is worried about regretting not playing the field before settling down.
FOLLOW US ON THE STEREO APP FREE FOR OUR 3X WEEKLY LIVESTREAM SHOW (Sponsor)
-Get extra content, Ad Free episodes, support the pod, and get to know other listeners by joining our Patreon community. We use the money for equipment, studio rentals, editing, mixing, travel for live shows (when those are a thing again), and more!
-Take the quiz and get a discount on a brand new mattress when you go to helixsleep.com/dykingout (sponsor)
If you can't support the pod on a monthly basis, please consider tipping us through Paypal or purchasing 1-on-1s and cameos through Jemi. We truly appreciate it!
-We've got MERCH.
-For related content, follow us on Twitter, Facebook, Instagram
-Help more dykes find us and Leave Us a 5-star Review if you like what you hear!
-Have a question that you need answered ASAP? Check us out on WISIO.
-Like our theme song by There Is No Mountain? Subscribe to our composer/mixer's youtube channel for more beats and mixes.