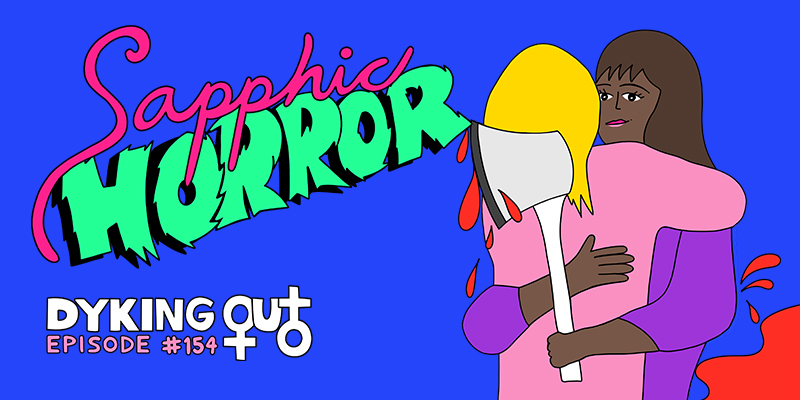 No trick and all treat, author emily m. danforth (Plain Bad Heroines, The Miseducation of Cameron Post) joins us this week to dyke out about all things sapphic and spooky. Why do "final girls" code as queer? Are queers more drawn to the horror genre in their youth? What scares us the most? Why is Melody so afraid of bees???? Plus, Emily gives us the scoop on her latest novel full of gothic mischief and oh-so-gay. We also talk about our costumes from U-Hauloween and learn more about how Ali's mom tries to be an Ali. Finally, we end with a question from a listener who is frustrated by her dating life after moving to a more urban area.
Here's a partial list of movies and books referenced in this conversation:
Scream
Halloween
Watcher in the woods
The Town that Dreaded Sundown
It
Halloween
The Haunting of Hill House
The Haunting of Bly Manor
Annihilation
Jennifer's Body
Gideon the Ninth by Tamsyn Muir,
Her Body and Other Parties by Carmen Maria Machado
A Line In The Dar by Melinda Lowes
The Return by Rachel Harrison
-Get extra content, support the pod, and get to know other listeners by joining our Patreon community. We use the money for equipment, studio rentals, editing, mixing, travel for live shows (when those are a thing again), and more! If you can't support the pod on a monthly basis, please consider tipping us through Paypal. We truly appreciate it!
-For related content, follow us on Twitter, Facebook, Instagram
-Help more dykes find us and Leave Us a 5-star Review if you like what you hear!
-We've got gay MERCH.
-Have a question that you need answered ASAP? Check us out on WISIO.
-Like our theme song by There Is No Mountain? Subscribe to our composer/mixer's youtube channel for more beats and mixes.