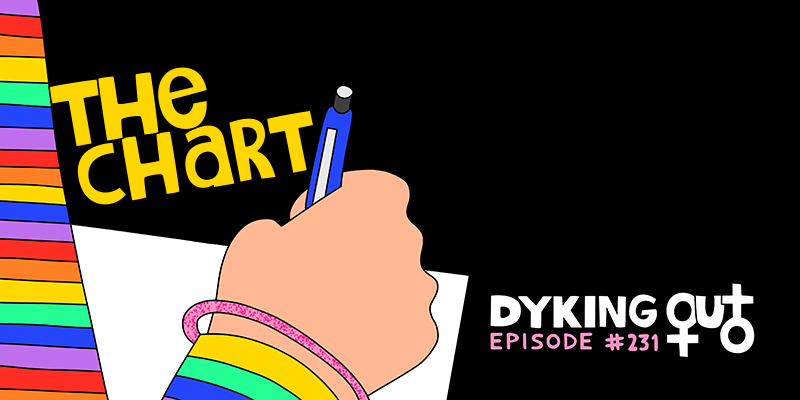 How many lines connect you to your local Shane on The Chart? Lesbian aficionada, writer, author, and performer Zara Barrie joins us to explore the tangled webs we weave in our community. Is it okay to hook up with a friend's ex? Why do 'charts' feel more real in smaller cities? When queer women go after straights, is it because they've exhausted their own chart? Should we put all our projects on hold to make a master Celesbian chart? Which one of us is the real Alice Pieszecki? Okay, we don't address that last one, but feel free to let us know your opinion. Plus, Melody gays up the Grammy's and Carolyn wants to change an icon's life story. And finally, we get a short and sweet listener question but give it the longest answer.
-Get extra content EACH WEEK, Ad Free episodes, support the pod, and get to know other listeners by joining our Patreon community.
If you can't support the pod on a monthly basis, please consider tipping us through Paypal or purchasing 1-on-1s and cameos through Jemi. We truly appreciate it!
-We've got MERCH.
-For related content, follow us on Twitter, Facebook, Instagram
-Help more folks find us and Leave Us a 5-star Review if you like what you hear!
-Theme song by There Is No Mountain
Sponsors:
Carpe: mycarpe.com use code DYKINGOUT for 25% off your first purchase
Helix: Helixsleep.com/dykingout for up to $200 off your purchase
BetterHelp: As a listener, you'll get 10% off your first month by visiting our sponsor at betterhelp.com/do
Best Fiends: Join us and the millions of Americans who are already playing this game. Download Best Fiends for FREE on The Apple APP store or Google Play.