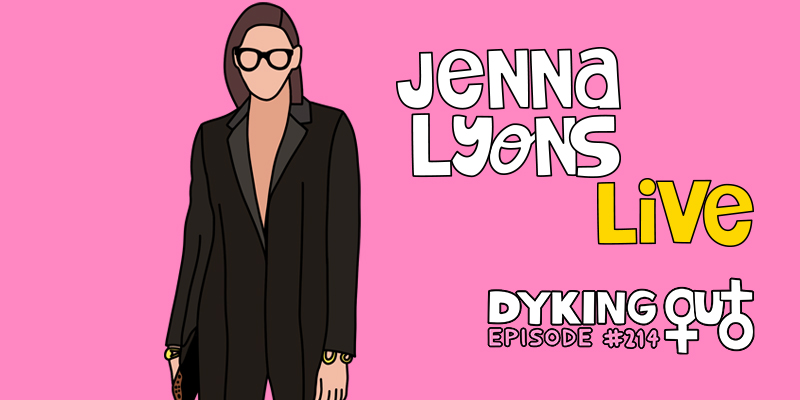 It's our first live recording in YEARS, and we couldn't be more thrilled to dyke out with the iconic and stylish Jenna Lyons! We sat down with Jenna on December 7 at The Wing Soho in front of an audience filled with our favorite listeners.
We talk about Jenna's experience of being outed and the learning curve that comes with coming out later in life. Plus, she tells us what changed (and what didn't) in her business and personal relationships as a result. Also, we dive into the highlights of her expansive career at J. Crew, what she's been up to since, and how to get her on another reality TV show. There's also an audience Q&A, and you'll find out just how much Melody hates the pride flag. Finally, we close the episode out with a listener question about how to get an aunt to come out of the closet.
-Get extra content EACH WEEK, Ad Free episodes, support the pod, and get to know other listeners by joining our Patreon community.
If you can't support the pod on a monthly basis, please consider tipping us through Paypal or purchasing 1-on-1s and cameos through Jemi. We truly appreciate it!
-We've got MERCH.
-For related content, follow us on Twitter, Facebook, Instagram
-Help more dykes find us and Leave Us a 5-star Review if you like what you hear!
-Have a question that you need answered ASAP? Check us out on WISIO.
-Theme song by There Is No Mountain
Sponsors:
Parade: YourParade.com/DykingOut, use code DYKINGOUT for 30% off your first purchase
BetterHelp: As a listener, you'll get 10% off your first month by visiting our sponsor at betterhelp.com/do
Best Fiends: Join us and the millions of Americans who are already playing this game. Download Best Fiends for FREE on The Apple APP store or Google Play.