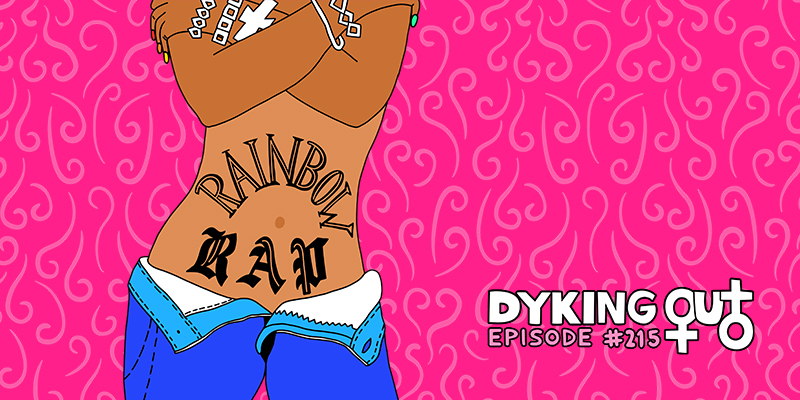 Not even the omicron variant could stop us from pushing out this episode about rainbow rap with the brightest artist in the game, Dai Burger! Hot off her latest release, Back in ya Mouf, Dai speaks to the importance of being true to yourself in an industry that tries to place you in pre-defined categories. Plus, she tells us about her early influences and shares her music-making process. And yes, we bring up Queen Latifah. But before we get to this uplifting interview, Carolyn and Melody get hit with COVID, hard. Though before their week took a drastic turn, they were able to share in the most joyful and gay event. Finally, we end with a question about terminology. Stay safe, vaccinated, boosted, and fabulous. Happy holigays!
-Get extra content EACH WEEK, Ad Free episodes, support the pod, and get to know other listeners by joining our Patreon community.
If you can't support the pod on a monthly basis, please consider tipping us through Paypal or purchasing 1-on-1s and cameos through Jemi. We truly appreciate it!
-We've got MERCH.
-For related content, follow us on Twitter, Facebook, Instagram
-Help more dykes find us and Leave Us a 5-star Review if you like what you hear!
-Have a question that you need answered ASAP? Check us out on WISIO.
-Theme song by There Is No Mountain
Sponsors:
Parade: YourParade.com/DykingOut, use code DYKINGOUT for 30% off your first purchase
BetterHelp: As a listener, you'll get 10% off your first month by visiting our sponsor at betterhelp.com/do
Smile Brilliant: Want to whiten your teeth? Go to smilebrilliant.com and use code DYKING for an exclusive Dyking Out discount.
Best Fiends: Join us and the millions of Americans who are already playing this game. Download Best Fiends for FREE on The Apple APP store or Google Play.