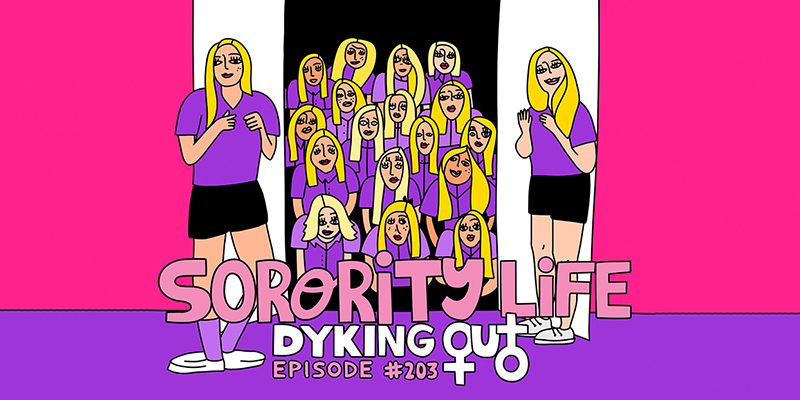 Roll tide! We've got Sophie Santos back on the pod for another round of sapphic conversation. This time, we're dyking out about Sorority Life, a topic that comes up in Sophie's new memoir, The One You Want To Marry (And Other Identities I've Had). Are queer women especially drawn to sororities? What parts of being in a sorority feel extra gay? Are they becoming more inclusive and open to the queer community? Why is TikTok dunking on pledges? Also, Sophie teaches us all how NOT to befriend a stripper. (Bambi, are you listening?). Plus, Melody tries to put a new spin on an old gayest thing while Carolyn doubles up. Finally, we have a listener question that we hope everyone is otay with.
-COME TO OUR LIVE RECORDING OCTOBER 13! In-person and virtual tickets are on sale now.
-Get extra content EACH WEEK, Ad Free episodes, support the pod, and get to know other listeners by joining our Patreon community.
If you can't support the pod on a monthly basis, please consider tipping us through Paypal or purchasing 1-on-1s and cameos through Jemi. We truly appreciate it!
-We've got MERCH.
-For related content, follow us on Twitter, Facebook, Instagram
-Help more dykes find us and Leave Us a 5-star Review if you like what you hear!
-Have a question that you need answered ASAP? Check us out on WISIO.
-Like our theme song by There Is No Mountain? Subscribe to our composer/mixer's youtube channel for more beats and mixes.